Dear Reader,
Welcome to our second electronic edition of IPRC Climate, bringing you news of the research and developments at the International Pacific Research Center over the first three-quarters of 2015. From El Niño predictions to collecting data on ocean mixing in the equatorial Pacific, we continue to explore the complex interactions of Earth's atmosphere and oceans to gain insights into our planet's changing climate. Enjoy reading our newsletter and please visit our website to learn more about the IPRC or to find copies of past printed issues of the newsletter.

Kelvin Richards, Director
Japanese high school students visit IPRC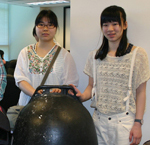 IPRC welcomed 21 Japanese students and their three teachers, from Morioka Daisan High School. Morioka, the capital of Iwate Prefecture, suffered much devastation in the March 2011 tsunami, so the students were very attentive to a presentation by IPRC's Jan Hefner He spoke about modeling the pathways of the tsunami-generated debris across the ocean to the North Pacific Coast and back towards north-east facing shores of Hawaii.
MORE
Extending climate predictability beyond El Niño
Honolulu, April 21, 2015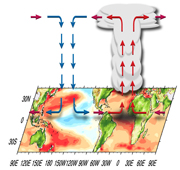 New research by IPRC's Yoshimitsu Chikamoto and Axel Timmermann and their international colleagues in the USA, Australia, and Japan suggests that tropical Pacific climate variations and their global weather impacts may be predicted much further in advance than previously thought. Such long-term tropical climate forecasts are useful to the public and policy makers. MORE
A strong El Niño in 2015?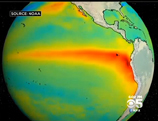 In an interview on KITV4 News, IPRC's Axel Timmermann stated that compared to last year's sea surface temperatures in the equatorial Pacific, we are already in an El Niño state. "It's very likely that we're going to have a strong El Niño in the next 3-4 months," he predicted, with more storm generation in the Pacific. He also spoke with CBS/San Francisco for a local podcast.
Highest carbon dioxide levels ever recorded!
Honolulu, May 12, 2015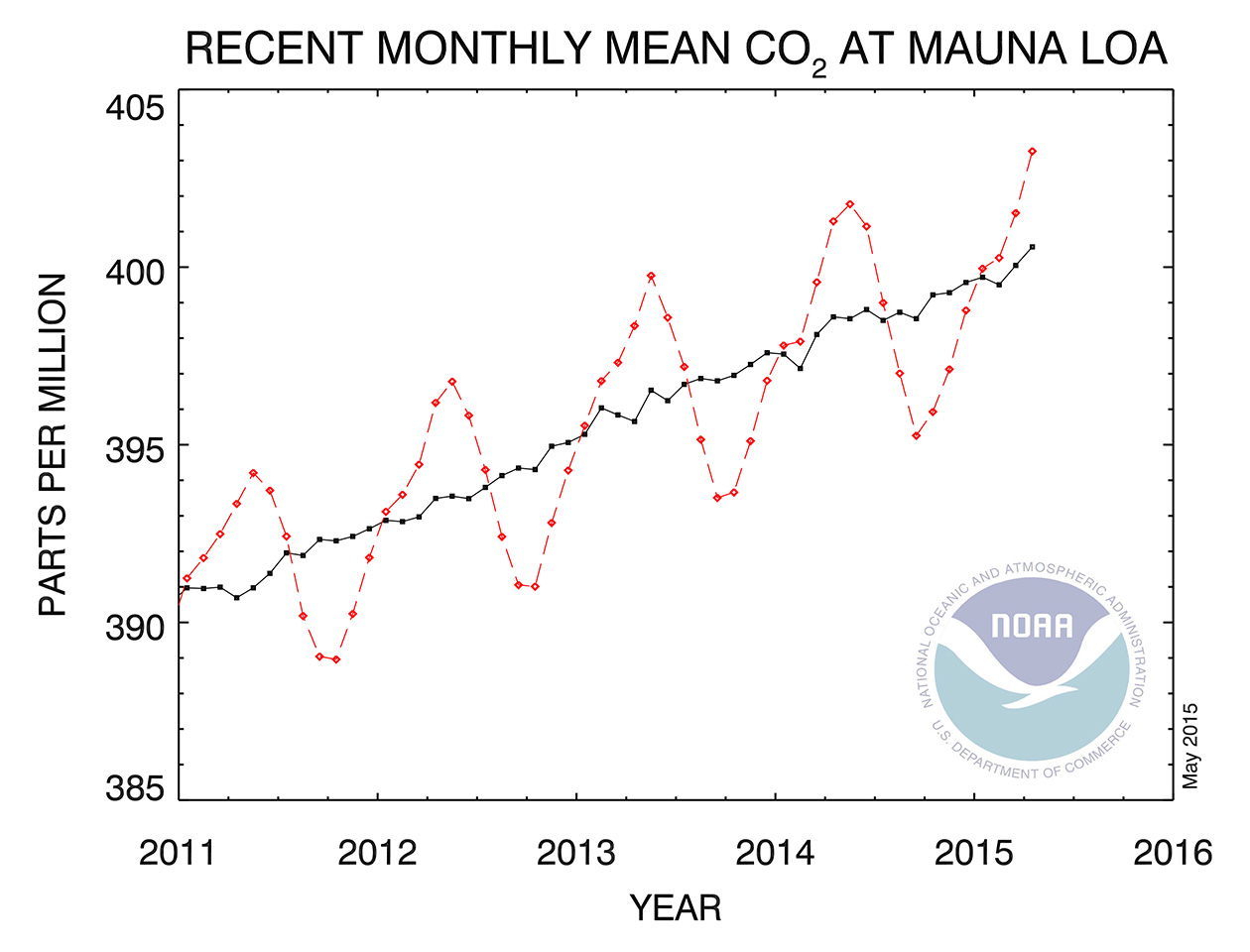 A spring NOAA report shows that global mean carbon dioxide concentrations reached 400 parts per million in March, the highest level on record. IPRC's Axel Timmermann talked with Beth-Ann Kozlovich on Hawaii Public Radio about the implications of this new record. MORE
IPRC Marine Debris Drift Model simulates MH370 crash site and flow paths
Honolulu, August 6, 2015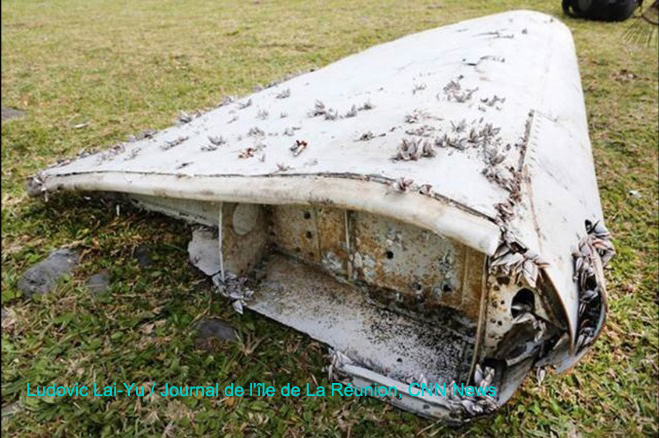 The IPRC Marine Debris Drift Model has simulated flow paths of the flaperon from the likely crash site of Flight MH370 to Reunion and provided maps to guide on-shore searches for other flight debris. Nikolai Maximenko and Jan Hafner, who developed the model, have previously used it to simulate debris pathways for the 2011 tsunami in Japan. View the simulation and maps.
IPRC Director leads team to central Pacific for ocean turbulence study during developing El Niño
Honolulu, August 19, 2015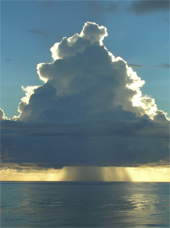 In July and August, IPRC Director Kelvin Richards sailed out on the Schmidt Ocean Institute's R/V Falkor, leading an international team of scientists from the University of Hawai'i, Seoul National University, and the Korean Institute for Ocean Science and Technology. The goal was to gather data from the central equatorial Pacific on flow structures that create small-scale ocean turbulence and mixing. This data should help determine the causes of ocean mixing and its impact on the coupled ocean-atmosphere system. Read the press release, see Hawaii News Now, hear Radio Australia and MORE.
Bin Wang awarded the Gustaf-Rossby Research Medal
Phoenix, January 7, 2015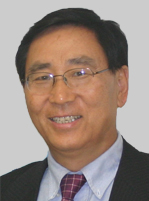 At the 95th Annual meeting of the American Meteorological Society, IPRC's Bin Wang received the Carl-Gustaf Rossby Research Medal "for creative insights leading to important advances in the understanding of tropical and monsoonal processes and their predictability." This medal is the highest award for atmospheric science given by the AMS. PDF Announcement.
IPRC's Axel Timmermann wins UH Regents' Medal for Excellence in Research
Honolulu, May 5, 2015

The University of Hawaiʻi awarded IPRC's Axel Timmermann the distinguished Regents' Medal for Excellence in Research for his outstanding accomplishments in climate science. After a reception to honor all of the awardees, Timmermann received his medal at an awards ceremony, as well as a $1,000 monetary award. The Research Corporation of the University of Hawaiʻi also honored Timmermann and his achievements with a $5,000 research fund.
Former IPRC scientist wins prestigious prize in Japan
Honolulu, May 20, 2015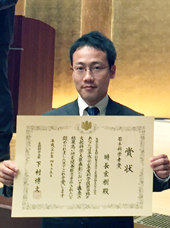 Hiroki Tokinaga
, former IPRC assistant researcher and now
associate professor
at Kyoto University, was one of 97 young researchers to receive the Young Scientists' Prize of "Commendations for Science and Technology" from the Japan Ministry of Education, Culture, Sports, Science and Technology (
MEXT
). Tokinaga was awarded this prestigious prize for his work on "ocean-atmosphere interaction and its impact on climate formation and variability," which included his research at IPRC.
Axel Timmermann elected AGU Fellow
Honolulu, July 28, 2015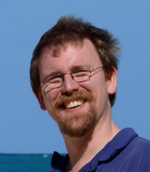 IPRC's
Axel Timmermann
has been elected an American Geophysical Union Fellow. According to the
EOS announcement
, election as a fellow "is a tribute to those…who have made exceptional contributions to Earth and space sciences as valued by their peers and vetted by section and focus group committees." He will join other 2015 Fellows in being recognized at an award ceremony during the
2015 Annual AGU Fall Meeting
in San Francisco, CA.
We invite you to visit us on our website:
http://iprc.soest.hawaii.edu
International Pacific Research Center · University of Hawaii at Manoa · 1680 East-West Rd. · Honolulu, Hi 96822 · USA
unsubscribe from this list
update subscription preferences
Copyright © International Pacific Research Center, All rights reserved.