IPRC News 2007
Published! Kevin Hamilton's Book on High-Resolution Climate Modeling

December 5, 2007
The book High Resolution Numerical Modelling of the Atmosphere and Ocean edited by IPRC's Kevin Hamilton and his colleague Dr. Wataru Ohfuchi, group leader at the JAMSTEC Earth Simulator Center in Yokohama, Japan, has just been released by Springer Verlag (read more).




Climate Changes in the Last 1500 Years: Their Impact on Pacific Islands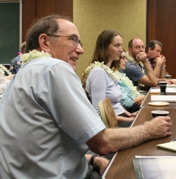 December 4, 2007
Rapid environmental changes befell the Pacific Islands around A.D. 1300, according to evidence presented at the workshop "Climatic Changes in the Last 1500 Years: Their Impact on Pacific Islands," recently hosted by the IPRC at the East-West Center. Were these changes caused by climate change or by human activities? (read more in report; in Raising Islands)




IPRC Plans Exchange Program in Climate Research and Training with National Taiwan University
December 3, 2007
An exchange program for both faculty and graduate students is planned between the International Pacific Research Center (IPRC)/Meteorology Department and National Taiwan University (read more in in news release in Honolulu Advertiser).




Al Gore, the IPCC, and the IPRC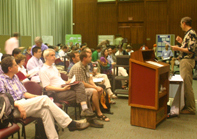 October 17, 2007
IPRC's founding is partly due to a 1997 meeting between then US Vice President Al Gore, this year's Nobel Peace Prize winner, and Japan's Prime Minister Hashimoto. IPRC has contributed in several ways to the IPCC, which shares the Prize (read news release).




Sunlight: Terminator of Ice Age in Southern Hemisphere

September 27, 2007
Greater heating from the sun during Antarctic spring very likely triggered the end to the last ice age in the Southern Hemisphere according to a new study published in Science. The study, co-authored by IPRC's Axel Timmermann, changes current thinking on last ice age ending. (read more in Honolulu Advertiser ; Honolulu Star Bulletin ; sciencemag ; sciencedaily , news release)




The Science of Global Climate Change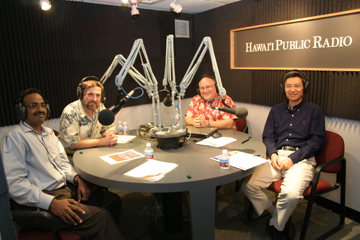 August 15, 2007
IPRC's Kevin Hamilton, Shang-Ping Xie, and H. Annamalai talk with Jay Fidell on the HPR ThinkTech show about the Intergovernmental Panel on Climate Change report and what the findings mean for climate globally and for Hawaii. (click for podcast of radio broadcast; for podcast of aftershow; for large image, picture).




Foretelling Future Climate Change: The Scientific Basis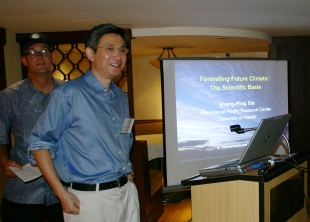 August 12, 2007
IPRC's Shang-Ping Xie gave the keynote speech at the opening of a meeting on the environment, hosted by the Environment Program Office of theAsia Foundation.




Special Issue on "Indian Ocean Climate" Published
July 1, 2007
The American Meteorological Society's Journal of Climate released the special issue, Indian Ocean Climate, on July 1, 2007. The editor is IPRC's associate researcher Tommy Jensen. The IPRC hosted the conference leading up to the special issue. (read more in news release ; News@UH)




MELTDOWN! Understanding Abrupt Climate Changes in the Last Ice Age
June 20, 2007
IPRC's Axel Timmermann gave a talk at the Bishop Museum Science Cafe on abrupt climate change. Over 100 people attended the event. For his animations of climate change on the NOAA "Science on a Sphere" click for jpg; for pdf. Photos courtesy of IPRC's Yan Du and Gisela Speidel.




We're in a drought!

May 19, 2007
The Hawaiian Island chain has seen about 40 to 60 percent of its normal rainfall this year. IPRC's Annamalai Hariharasubramanian explained that this drought is linked to the recent El Nino. (read more in Honolulu Advertiser)




IPRC and the APEC Climate Center sign MOU to partner on climate prediction research
April 4, 2007
IPRC Director Dr. Julian McCreary and the Executive Associate Director of the APEC Climate Center Dr. Chung-Kyu Park signed an MOU in February to partner on climate prediction research.read more in news release)





SOEST scientists discuss climate changes threatening Hawai'i
February 25, 2007
Hawai'i faces rising temperatures and sea levels, eroding shorelines, and a more acidic ocean as atmospheric carbon dioxide levels increase. IPRC's researchers for global environmental change Kevin Hamilton and Axel Timmermann and SOEST colleagues geologist Charles "Chip" Fletcher, and oceanographers Lorenz Magaard, Roger Lukas, David Karl, and Klaus Wyrtki (Emer.) comment on the implications. (read more in Honolulu Advertiser. Photo: Coastal Geology Group.)




IPRC's Axel Timmerman wins prestigious Rosenstiel Award

February 13, 2007
Axel Timmermann has been selected as the 33rd recipient of the prestigious Rosenstiel Award in Oceanographic Science for his outstanding achievement and growing impact on ocean science. (read more in Star Bulletin ; news release; RSMAS news release)




News Archive: 2010 2009, 2008, 2007, 2006, 2004, 2003, 2002, 2001, 2000