NEWS
Where will debris from Super Typhoon Haiyan go in the ocean?
Honolulu, November 22, 2013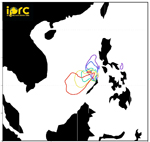 Using the model developed for the 2011 tsunami debris, IPRC's Nikolai Maximenko and Jan Hafner are projecting paths for the debris that might have been generated by super typhoon Haiyan in the Philippines. According to the model, any typhoon-generated marine debris is expected to move westward through the Philippine Archipelago into the South China Sea. Unclear is whether from there it would be carried to the coasts of Vietnam or would be diverted by currents and winds to different shores of the South China Sea. Read more in UH News.
El Niño is becoming more active
Honolulu, October 28, 2013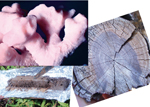 A new approach to analyzing paleo-climate reconstructions of the El Niño Southern Oscillation (ENSO) phenomenon resolves disagreements and reveals that ENSO activity during the 20th century has been unusually high compared to the past 600 years. The study, published in Climate of the Past, was authored by Shayne McGregor at the University of New South Wales, IPRC's Axel Timmermann, and scientists at the NOAA Geophysical Fluid Dynamics Laboratory. Read more in Nature World News; Science Codex; Colorado News. Watch KITV4. See Star-Advertiser story.
IPRC featured in Japanese Ocean Policy newsletter
Honolulu, October 28, 2013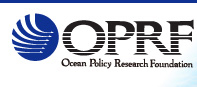 The semimonthly newsletter of Ocean Policy Research Foundation in Tokyo has published an article by Kevin Hamilton about the IPRC and its Japanese connections (Number 317, October 20, 2013). University of Tokyo Professor Emeritus Toshio Yamagata, who is co-chief editor for the newsletter, translated the article into Japanese; read the article in English.
Honolulu, October 1, 2013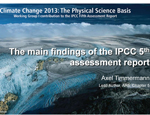 Climate Change 2013: The Physical Science Basis of the Fifth IPCC Climate Assessment Report was released on September 30 in Stockholm, Sweden. IPRC's Axel Timmermann and Mark Merrifield, Director of the UH Sea Level Center, presented the report's summary findings to a packed audience of faculty and students at the University of Hawaii Manoa C-MORE Hale. David Karl, Director of the Center for Microbial Oceanography Research and Education (C-MORE), hosted and moderated the special event and gave background information on the report. Local television stations and Star-Advertiser were present. See KHON2; Hawaii News Now; Star-Advertiser; Timmermann's PowerPoint. For video of the briefing, click here.
Increased greenhouse gases and aerosols
have similar effects on rainfall
Honolulu, September 3, 2013
Although greenhouse gases and aerosols have very distinct properties, their effects on spatial patterns of rainfall change with global warming are surprisingly similar, according to new research from the University of Hawaii at Manoa's International Pacific Research Center (IPRC) and Scripps Institution of Oceanography. The study is published in the September 1 online issue of Nature Geoscience. Read press release, read more in French Tribune.com, in Science Codex, and in Honolulu Star-Advertiser.
Honolulu, August 5, 2013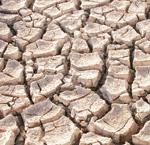 The Indian Express, the Indian English-language daily newspaper read widely across India, published a 400-word story on the changing monsoon rainfall over India, detailing the findings of a study by IPRC's H. Annamalai. Annamalai is quoted: "Various observations have shown that the Indian monsoon has weakened by around 5-6 per cent over the past few decades. Also, there has been an increase in the instances of rainfall over the west Pacific ocean. In fact, India has not observed any strong rainfall activity…since the monsoon of 1994." The study, "Global warming shifts monsoon circulation, drying South Asia," appeared in the Journal of Climate.
IPRC's Bin Wang elected AGU Fellow
Honolulu, July 30, 2013
IPRC's Bin Wang has been elected Fellow by the American Geophysical Union (AGU). This honor is given to AGU members who have made exceptional scientific contributions and attained acknowledged eminence in the fields of Earth and space science. The title is conferred only to 0.1% of all AGU members in any given year. The 2013 Fellows will be recognized during the Honors Tribute at the 2013 AGU Fall Meeting on Wednesday, December 11, 2013, in San Francisco.
El Niño unusually active in the late 20th Century
Honolulu, July 1, 2013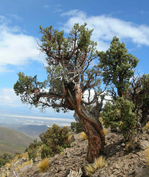 Reliable prediction of El Niño response to global warming is difficult, as El Niño varies naturally over decades and centuries. Instrumental records are too short to determine whether recent changes are natural or attributable to increased greenhouse gases. An international team of scientists, spearheaded by Jinbao Li and Shang-ping Xie while at the IPRC, now shows that recent El Niño activity is the highest for the past 700 years, possibly a response to global warming. The work is published in the June 30, 2013, online issue of Nature Climate Change. Read more in Discovery.com, in Climate News Network.com, and in Christian Science Monitor.
New Research Could Lead To Improved El Niño Forecasting
Honolulu, May 26, 2013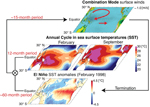 Why El Niño peaks in boreal winter and ends quickly in February to April has been a long-standing mystery. The answer lies in an interaction between El Niño and the annual cycle that generates an unusual wind pattern in the tropical Pacific with a 15-month period, according to a study by IPRC's Axel Timmermann and Malte Stuecker and Fei-Fei Jin at the UH Manoa Meteorology Department. The study that may lead to improved El Niño Forecasting was published in the May 26 online issue of Nature Geoscience. Read article; read more in redOrbit; in Summit County Citizens Voice and in TopNews Arab Emirates.
The Tropical Upper Atmosphere "Fingerprint" of Global Warming
Honolulu, May 23, 2013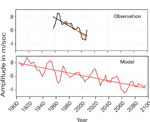 The winds of the quasibiennial oscillation in the tropical upper atmosphere have greatly weakened at some altitudes over the last six decades, according to a study by IPRC's Kevin Hamilton and JAMSTEC's Yoshio Kawatani. The finding, published in the May 23, 2013, issue of Nature, is consistent with computer model projections of how the upper atmosphere responds to global warming induced by increased greenhouse gas concentrations. Read article; also in Environmental Research Web, in Science Daily, and in Summit County Citizens Voice and in JAMSTEC Press Release.
Sea level impact on Indo-Pacific climate during glacial times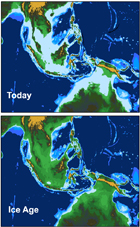 Honolulu, May 19, 2013
Pedro DiNezio of the International Pacific Research Center, University of Hawaii at Manoa, and Jessica Tierney of Woods Hole Oceanographic Institution investigated preserved geological clues (called "proxies") of rainfall patterns during the last ice age when the planet was dramatically colder than today. Comparing these patterns with computer model simulations, they found that the exposed Sunda Shelf during the last ice age shifted rainfall and convection westward. The study appeared in the May 19 online issue of Nature Geoscience. Read study; read more at redOrbit.com and ScienceDaily.com.
More Hurricanes for Hawaii?
Honolulu, May 5, 2013


Hawaii, fortunately, has been largely free of hurricanes in the recent past.. Now a study by IPRC's Hiroyuki Murakami and Bin Wang, and by Akio Kitoh at the Japan Meteorological Research Institute shows a two-to-threefold increase in tropical cyclones approaching Hawaii by the last quarter of this century. The study appears in the May 5, 2013, online issue of Nature Climate Change. See more at Hawaii News Now. Read more in ClimateWire, in Science Daily, in Summit County Citizens Voice, in Discovery News, and in Star-Advertiser.
Earth Week Celebration!
Axel Timmermann speaks on climate change
Honolulu, April 24-26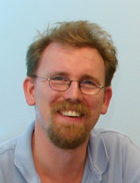 , 2013
In conjunction with Earth Week celebrations, IPRC's climate expert Axel Timmermann speaks about "Fifteen Frequently Asked Questions on Climate Change," including "How much of the recent warming can be attributed to human activities?" "What are the biggest uncertainties in scientists' predictions of Global Warming?" and "How will the Hawaiian Islands be impacted by future climate change, sea level rise and ocean acidification?" The talk takes place at the State Capitol Auditorium on Wednesday, April 24, at the Manoa Campus of the University of Hawaii on April 25, and at the West Oahu Campus on the April 26.
Less rainfall expected for the Hawaiian Islands
Honolulu, April 23, 2013


Almost imperceptibly, rainfall over the Hawaiian Islands has been declining since 1978, and this trend is likely to continue with global warming through the end of this century, according to a team of scientists by IPRC's Oliver Elison Timm and colleagues at the University of Hawaii at Manoa (UHM) and the University of Colorado at Boulder. The study appeared in the March 13, 2013, early online issue of the Journal of Geophysical Research. See KITV News, and Planet Save; more in Science Newsline and in Summit County Citizens Voice.
IPRC's Bin Wang Wins UH Regents' Medal for Excellence in Research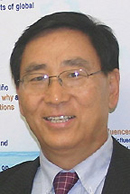 Honolulu, April 16, 2013
The University of Hawaii Research Council has selected IPRC's Bin Wang for the 2013 Regents' Medal for Excellence in Research for his outstanding research accomplishments. Wang will receive the medal together with a $1,000 monetary award at the UH Manoa awards ceremony, April 30, 2013, from 10:00 am to 11:00 am, in the Orvis Auditorium. A reception will follow the ceremony. Wang has also been invited to give a public lecture in the 2013 Fall Semester.
Study reveals seasonal patterns of tropical rainfall changes from global warming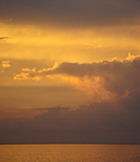 Honolulu, April 15, 2013
Projections of rainfall changes from global warming have been very uncertain because scientists could not determine how two different mechanisms will impact rainfall. The two mechanisms turn out to complement each other and together shape the spatial distribution of seasonal rainfall in the tropics, according to IPRC's Shang-Ping Xie and Chinese colleagues, who published their study in the April 14, 2013, online issue of Nature Geoscience. Read more in Summit County Citizen Voice and ClimateWire and Science Daily.
Global Monsoon Rainfall Intensifies: The Effects of Both Natural Climate Swings and Global Warming
Honolulu, March 20, 2013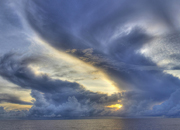 An international team of scientists around Bin Wang at the International Pacific Research Center found that natural swings in the climate have significantly intensified Northern Hemisphere monsoon rainfall, showing that these swings must be taken into account for climate predictions in the coming decades. The findings are published in the March 18 online Proceedings of the National Academy of Sciences. Read more in Dot Earth, The New York Times; in Nature News World; and in Hindustan Times.
The 2013 IPRC Public Lecture in Climate Science
Honolulu, March 12, 2013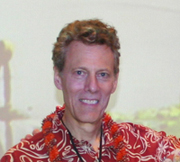 "Dealing With Climate Change: Are We Flying Blind?" was the title of the fourth annual IPRC Lecture in Climate Science given on the Manoa Campus last night by William Chameides, Dean and professor of the Nicholas School for the Environment, Duke University. Chameides reviewed the evidence gathered by scientists over the last 150 years, which yields certainty that the present global warming is human-induced. "We may not yet have all the pieces to the global warming puzzle," he says, "but that Earth's temperatures are rising due to greenhouse gas emissions is a fact to which we must adapt."
Hiroki Tokinaga To Receive Prestigious Okada Prize from the Oceanographic Society of Japan
Honolulu, February 19, 2013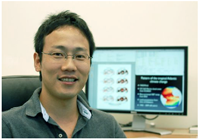 IPRC Assistant Researcher Hiroki Tokinaga is to receive the 2013 Okada Prize from the Oceanographic Society of Japan at its Spring Meeting in March. "Commemorating the late Professor Takematsu Okada, the Okada Prize is awarded to a young member of the Society who has made outstanding contributions to the progress of oceanography." Tokinaga receives the prize for his work on "tropical ocean climate change accompanied by ocean-atmosphere interaction" and will give a lecture on that topic at the meeting. Tokinaga is the first young scientist to win both the Okada Prize and the Yamamoto-Shyono Medal of the Meteorological Society of Japan.
The Complexity of Global Warming: Greenhouse Gases Versus Solar Heating
Honolulu, January 31, 2013


Examining global precipitation changes over the last millennium and projections to the end of the 21st century in computer climate simulations, a team of scientists led by Jian Liu (Chinese Academy of Sciences) and Bin Wang (International Pacific Research Center, University of Hawaii at Manoa), found that global warming from greenhouse gases affects rainfall patterns in the world differently than that from solar heating. The study is published in the January 31 issue of Nature. Read more in AFP, in RedOrbit, in Accuweather.com
Breakthrough in Predicting Asian Summer Monsoon Rainfall
Honolulu, January 22, 2013


A team of scientists led by IPRC's Bin Wang has made a breakthrough for predicting in spring both the summer monsoon rainfall over East Asia and the tropical storm activity near East Asian coastal areas. These two weather phenomena are controlled by fluctuations in the Western Pacific Subtropical High, a major atmospheric circulation system centered over the Philippine Sea. The study was published online on January 21 in the Proceedings of the Academy of Sciences. Read more in ENN, in UPI, in Summit County Citizens Voice.
News Archive: 2012, 2011, 2010, 2009, 2008, 2007, 2006, 2004, 2003, 2002, 2001, 2000